Bitterness. It's either one element of many in a well-rounded beer or the one thing that keeps you away. Where does it come from? Why is it even in beer? And is every craft beer bitter, for that matter?
Hops and Bitterness
As you probably know, bitterness is pretty much all about hops. Hops are the flowers, or cones, of a plant called humulus lupulus. Hops help to keep beer fresher, longer; help beer retain its head of foam—a key component of a beer's aroma and flavor; and, of course, add "hoppy" aroma, flavor, and bitterness. 
Sidenote: bitterness can also come from fruits, herbs, and even vegetables added to the beer. For example: pith from orange zest, spruce tips, juniper, and more.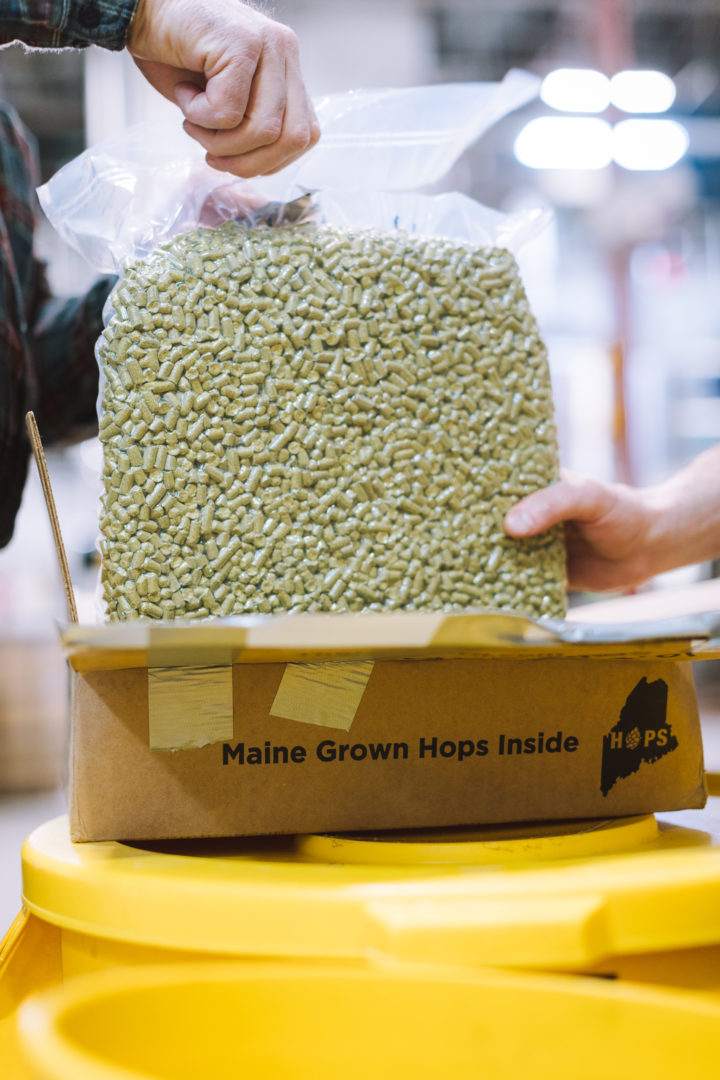 A bag of pelletized hops. The most prevalent form of hop you'll find in today's breweries.
Why even add hops?
It was the hop's preservative quality that first saw it added to beer way back in 822 C.E. Every single beer on the market today contains hops. If they didn't, they would be a "gruit" which is basically a beer that, instead of hops, uses witches-brew-sounding herbs like bog myrtle, yarrow, heather, or juniper.
 But do hops have to make beer bitter? Adding hops early in the brewing process contributes bitterness to beer. Adding hops later in the brewing process contributes more to the beer's aroma. But you can still add hops early in the process and end up with a notably un-bitter beer. It's all about the amount of hops, timing of hop additions, and which hops you're adding.
Bittering Vs. Aroma Hops
Hops are divided into two very general varieties: bittering and aroma. Bittering hops will have higher alpha acids, making them more economical for bittering beer (a small amount goes a long way). Aroma hops will tend to have more essential oils. It's those highly volatile essential oils that contribute much of what people understand as "hoppiness." We're talking aromas like citrus, pine, mango, resin, melon, and more. By adding hops early in the brewing process, all of those essential oils volatize (boil away), either during the boil or during fermentation. That's why adding them later in the brewing process tends to make a beer smell "hoppier." Also, that volatility is the same reason why the aroma and flavor of heavily hopped beers don't stand up as well to time. Much of the hop-forward aromas and flavors will dissipate, leaving quite a different beer than the brewer intended.
A view of Aroostook Hops, an organic hop farm up in Westfield, Maine.
Hoppy doesn't always mean bitter
But here's the wild part: you can add hops and not really have any detectable bitterness at all. In our Coolship beer, we age our hops for up to four years, which allows even those bittering alpha acids to dissipate. This leaves only the hop's preservative quality (and a little bit of a stinky aroma that mercifully dissipates during brewing).
But does craft beer have to be bitter? Absolutely not. We understand that IPAs and other hop-forward styles have certainly dominated the craft beer scene for years. But there are plenty of other styles of beer, both craft and not, that have tame and even basically nonexistent bitterness (even including some of the hugely aromatic "New England-Style" IPAs). If you're someone who doesn't like bitterness, here are a list of different beer styles, and examples of widely available beer, that we recommend you try:
Witbier – citrusy, spicy, hazy (Allagash White)
Hefeweizen – banana, cloves, biscuits (Weihenstephaner Hefeweissbier)
Octoberfest or Marzen – malty, amber (Samuel Adams Octoberfest)
Bock – caramel-like, malty, strong (Tröegs Troegenator)
Baltic Porter – dark, roasty (Jack's Abby Framinghammer)
Gose – tart, hint of salt, refreshing (Anderson Valley Gose)
Saison – dry, fruity, balanced (Saison Dupont)
Milk Stout – dark, creamy, roasty (Left Hand Milk Stout)